mikey's funnies
limited archive
Part 1
Whatever Happened to the Rich Little Poor Girl?
Catching up with Eddie Ogan, author of "The Rich Family in Church"
by Kimberly Claassen
"All my life, I've been able to find something funny in anything that happened." So says Eddie Ogan.
And most things were. But her story of a childhood Easter was a slight miscalculation. The story she wrote to make people laugh, made them cry. As she copied the letter with that story in it, folded and stamped it, sending it around the world to missionaries who could use a laugh in their day, she never guessed its bittersweetness would give pause to millions of readers worldwide for years to come.
We all want to see ourselves in Eddie's story, the story of a widow and three young daughters eating potatoes for a month, keeping the radio off to save on their electricity bill, taking odd jobs, and making cotton loop pot holders to sell—three for a dollar. All to scrape together money for the "sacrificial gift" the pastor would collect Easter morning for the poor family in church.
We want to walk with them to church that rainy Sunday morning when they were singing all the way despite the puddles disintegrating the cardboard patches in our shoes. We want to proudly deposit the crisp bills in the offering plate—sitting straight in our old dresses, giving away the most money we've ever had at one time.
Our eyes widen and a knot forms in our throat when the pastor shows up on the doorstep that afternoon, envelope in hand, when Eddie's younger sister's exuberance about this surprise spills that same crisp money out of the envelope and they watch it flutter to the floor. The knots in our throats inevitably disintegrate just like the cardboard shoe patches, spilling out in salty sympathy.
We want to be this family who "went from feeling like millionaires to feeling like white trash." We want to be them because we want a piece of something they had—something that went far beyond what the pastor could see.
The Rich Little Poor Girl
"We kids had such a happy life that we felt sorry for anyone who didn't have our Mom and Dad for parents [Dad died several years before the Easter story] and a house full of brothers and sisters and other kids visiting constantly," Eddie wrote. "We thought it was fun to share silverware and see whether we got the spoon or the fork that night. We had two knives that we passed around to whoever needed them. I knew we didn't have a lot of things that other people had, but I'd never thought we were poor."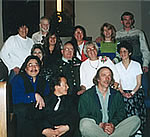 the Ogan family
This slice of Eddie's childhood, set in 1946, has become known as "The Rich Family in Church." Written in a letter to missionaries in 1990, it took on a life of its own and still circulates in magazines, books (Chicken Soup for the Golden Soul), and Web sites (Google.com pulls up 100 links to her story—including translations in German and Indonesian). Other than some versions mistaking Eddie for a boy (her name is pronounced like the male name, "Eddy"), the story has remained intact.
Eddie (Smith) Ogan, the sixth of seven children, who found out at age 14 that she was "poor" is now 72. She and her husband, Phil, live on Social Security. They clean the grounds and bathrooms at the Northeast Washington Fair; the Colville, Washington, Father's Day Rodeo; and Town and Country Days at the next town over.
Are you thinking that poor girl became even more poor? Then you don't know the end of that Easter story, and you don't know Eddie Ogan.

Growing Up "Poor"
"We didn't have much, but everything we had was shared with everybody else," Eddie says. "If any kid needed a place to stay, we took him in. If anybody didn't have clothing, Mom would do everything she could to come up with something for them."
With bounty to share, it never occurred to Eddie that they didn't have enough. Perhaps that explains why she and her husband have 13 children—12 of them adopted—and have fostered 77 children.
For Eddie, the dozen-plus-one children are an unexpected fulfillment of childhood determination.
"When I grow up, I'm going to have 12 children," she'd tell her mom repeatedly. "And they're going to be red and yellow, black and white." That was Eddie's favorite song: "Jesus loves the little children, all the children of the world. Red and yellow, black and white…." It made sense to her that all would be in one family. Her family.
"So my mother spent years and years telling me I would grow up to marry a white man, we would have white children, and I wouldn't want a dozen of them."
By the time Eddie and Phil had 12 children, they indeed had red and yellow, black and white: six Korean (two of them half-black), three American Indian, three Caucasian. And Eddie's mother wondered why she'd wasted so many years trying to convince Eddie differently.
In truth, neither the fostering nor the adoptions were exactly in Eddie and Phil's long-range plans. When on their eighth adoption, their caseworker asked how many children they planned to adopt.

"We never planned to adopt," Phil told her. "But I was raised without anyone telling me I was loved. So, if it's a matter of another child not having anyone to tell them that they're loved, well, I do love them."
In particular, Phil wanted to love Korean children.
A highly decorated serviceman during the Korean War, Phil served in Korea six years, including three years during occupation and 20 months during peace talks.
"He had a lot of nightmares about babies that were lying alongside the road that they couldn't do anything about," Eddie says. "It bothered him that so many children were fathered by American servicemen and weren't socially acceptable in Korea. So when the first Korean children came over, we wrote to see if there was any way we could adopt Korean children."
They didn't care if the child was male or female, handicapped or not. "We got our daughter Suzie when she was two and a half. Our doctors here told us we should send her back to the orphanage because she was so emotionally upset that she would never be normal. Every time you made a move by her she would throw her hands over her head and lean forward, trying to protect herself." Though it took a year before anyone could move near Suzie without her dropping to the floor, by the time she entered kindergarten, she was as eager as any other child.
Suzie was their third adopted child. When she and her two sisters begged for a baby brother, Eddie told them they didn't have enough money to adopt a baby brother. "They prayed that God would give them a baby brother," Eddie says. "I should not have been able to have children, but I had Timothy."
With three children in the house and one on the way, they got word of another child. Tom was crippled by polio, paralyzed from the waist down.
"I felt that we couldn't afford him at that time," Eddie says. "I talked to everybody. I went to everybody I could think of who might possibly be interested in adopting him. I couldn't believe that nobody was interested. Finally, we decided that we would adopt him because nobody else would."
While in the process of adopting Tom, Tim was born. Then the roof started leaking. They had to take the money they'd borrowed for the adoption to put a new roof on the house. They couldn't afford Tom, after all.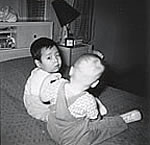 four-and-a-half-year old Tom (left) and his 8-month-old brother, Tim
"For six months, my husband said he didn't even want me to say anything about Tom because it bothered him so much," Eddie says. "Then on Christmas Eve, the Lord spoke to him and told him that if he adopted Tom, He would always take care of us—we would never go without."
They had just paid off Suzie's airplane ticket, so they could again borrow money from the bank—this time, for Tom's ticket. "He was four-and-a-half years old," Eddie says. "He was the same size as our 8-month-old son. He weighed the same amount. He came to us in a box. They had him in a cardboard box with a pillow in front of him so he wouldn't fall over in the box."
They were told Tom would never walk, but "after a great deal of prayer, he got feeling in his legs," Eddie says. "One leg, that was so terribly short, grew longer. He stood alone for the first time on Mother's Day. Thinking back, that, to me, is one of the biggest high points in my life—when Tom stood alone for two seconds on Mothers Day."
The only remnant of those early days for Tom, now a successful businessman in his late 40s, is a limp.
[ Part 2 >>]
---
home | about us | donate | subscription center | advertise | contact
Mikey's Funnies is
generously hosted by

Website development and hosting
with a ministry heart